Sports in the company? 6 ideas for introducing it into your organization's culture!
3/15/2023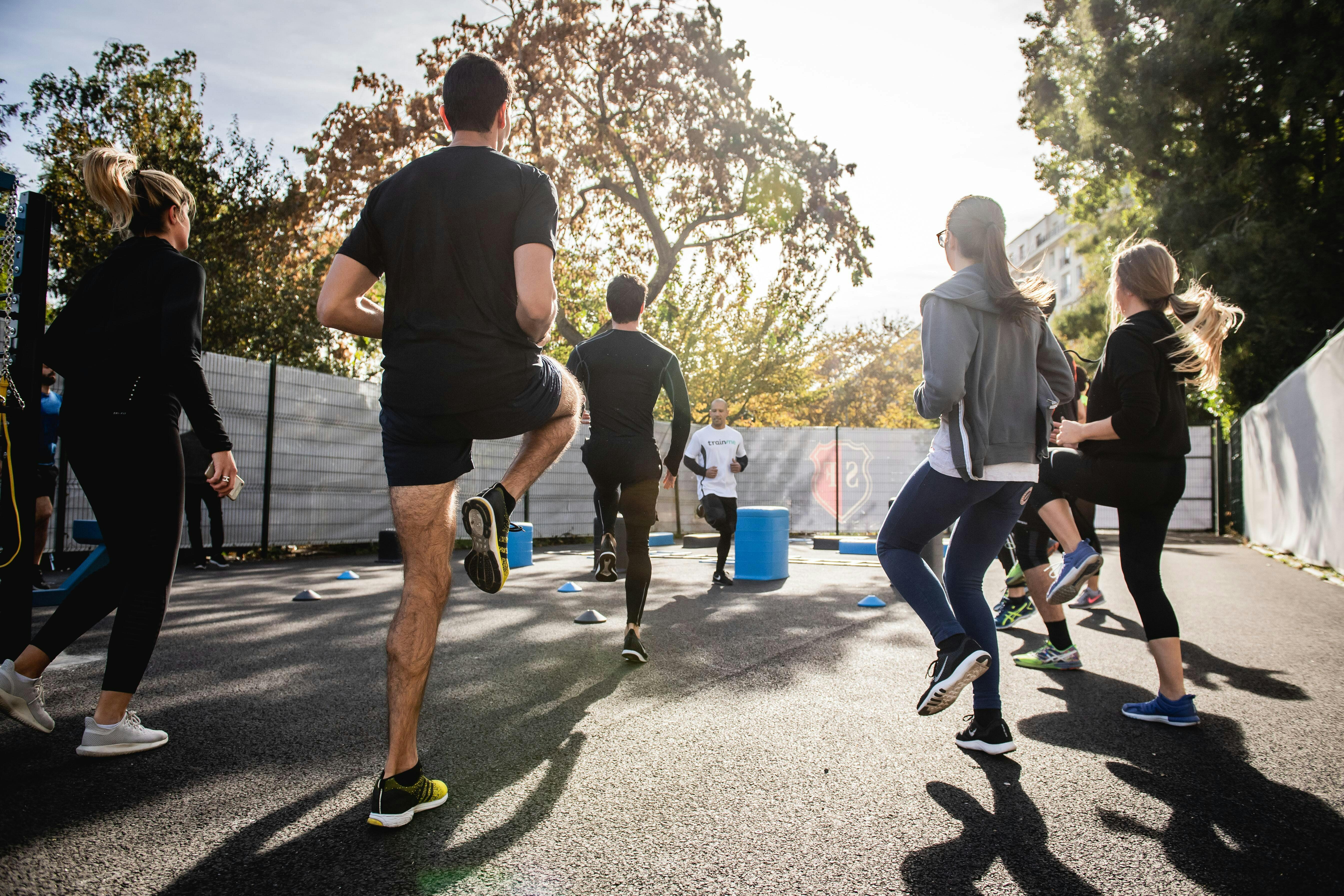 While there may be many ideas for employee integration, after two pandemic years spent in front of a screen, it's time to get employees out of the house! And there is such a need! As many as 71.1% of respondents to the Activy 2020 Report, noted that employee integration has decreased at the company after the pandemic outbreak, and among them, 59.4% say it is important to them.
Why sports? As many as 62% of us cite physical activity as our favorite way to relax (Mental Wellbeing of Employees in Poland, Mindy 2021 report). In addition to relaxation, it promotes overall wellbeing and counteracts the negative effects of a sedentary lifestyle, to which exposure has increased during the pandemic. So what do we do, get up from our chairs? There are very many forms of exercise, so there is something for everyone. Introducing sports into a company is a great opportunity to take on a common activity, a topic of conversation over coffee and a team-bonding element.
Who should come up with the initiative?
Should the idea come from HR? There is no rule. A great example is Luke from OLX, who, sharing his passion for sports, became the organizer of sports activities in the company. OLX Sport Group is a real mine of inspiration in the area of corporate sports activities. In front of you are 6 ideas for introducing sports into the company based on their 5-year experience (and more).
How many companies, so many stories! Invariably, however, it all starts with initiative. You could be a sports enthusiast with a desire to be active, or an HR professional looking for an idea to integrate employees. Coming up with an idea is the first and basic step. But not the hardest ;) After that, it is equally important to remember to constantly coordinate the project. There is no denying that with a person who infects with his passion this happens naturally and spontaneously. Therefore, it is worthwhile for the coordinator to also participate in sports activities or find an "ambassador" among employees. This approach significantly increases commitment and is the way to the success of the initiative!
OLX Sport is a vivid example of how a grassroots initiative and one email started a long-term program of sports activities. Luke emphasizes how important openness on the part of the company and "not killing the spirit" are in the success of this endeavor ;) Although his responsibilities have nothing to do with the organization of sports activities, over time he has become a "sports director" hailed by the crowd and now implements a rich program of sports activities, involving about 25% of employees in them during the year.
Ideas for bringing sports into your company
Get acquainted with them and verify which ones can work for your company. And then... proceed to action :)
1. Sports groups
Infecting others with your passion doesn't have to be done in a formal way, but it can be a great start to further activities on a larger scale. Feel like playing soccer or volleyball? Get a group together in your team. The company may be able to assist you organizationally or subsidize the rental of a place to play. In Activy, this is often the pattern - a grassroots initiative turns into something bigger, involving more employees.
Or maybe you want to take care of regular workouts, but can't mobilize? Ask a friend from your company if he or she feels like going to the gym around the corner after work. Take advantage of sports cards! Perhaps the company has a budget for organized activities? Get a group together and offer such an activity for everyone. For classes like fitness, healthy spine or yoga, all you need is a sports outfit and a workout mat.
2. Social outings
What do you associate team-building outings with? Who says they can't take the form of active fun? A climbing or squash lesson, laser tag, rope park, bowling... team building is very easy to weave into a sports game. It's worth going outside the box and spending this time in an original way.
3. Sports challenge in the Activy app
Encourage you to leave your desk and get out of the house. You can organize a motivating game for movement in the Activy app. How it works. Employees receive points for activity, regularity, commitment and optionally for biking, walking or running to/from work. The program combines friendly competition, cooperation in teams, as well as realizing active collections for a charitable cause and reducing the company's CO2 emissions. It is ideal for integrative fun regardless of work model.
The program is aimed at all employees. With Activy you will mobilize not only sports enthusiasts to move. Thanks to scientific methods of motivation, participants build a healthy habit of physical activity. Activy's mission is to move from the couch primarily those people who have not undertaken any physical activity for a long time and... succeed in doing so :) 70% of 2021 program participants noted that thanks to Activy they moved more often, and 95% of 2021 company challenge participants say they would like to participate in the program again. If you want to engage a wide range of employees to get active together, be sure to take an interest in Activy's solution.
4. Event of the year
Event of the year, or a special event that employees will remember for years to come, is another idea for bringing sports into the company. In this case, a trip or participation in a larger organized event will work great. Here are some examples (from real life):
yoga relax weekend,
participation in a half marathon,
sailing course,
an expedition to Mont Blanc,
canoeing.
5. Sports outfits
Many companies offer employees clothing with their branding. The classic choice seems to be a company T-shirt or sweatshirt. However, you can expand this set! A sports chimney in the brand's colors, a thermal T-shirt or a fleece with the logo printed on it. Such outfits will come in handy for employees both during the company's sports program and private activities. With the logo on their chest, they can take part in group initiatives - clearly a team effort!
6. Element of a cafeteria system
More and more companies are choosing to implement a cafeteria system into their benefit program. Here, too, there is room for sportsmanship. No one will be surprised by gym passes or movie tickets in a cafeteria offer. Instead, an interesting idea could be to establish cooperation with a trainer and physiotherapist. The cafeteria system could include personal training and a visit to the office, which would allow a conscious and safe start to the adventure of sports..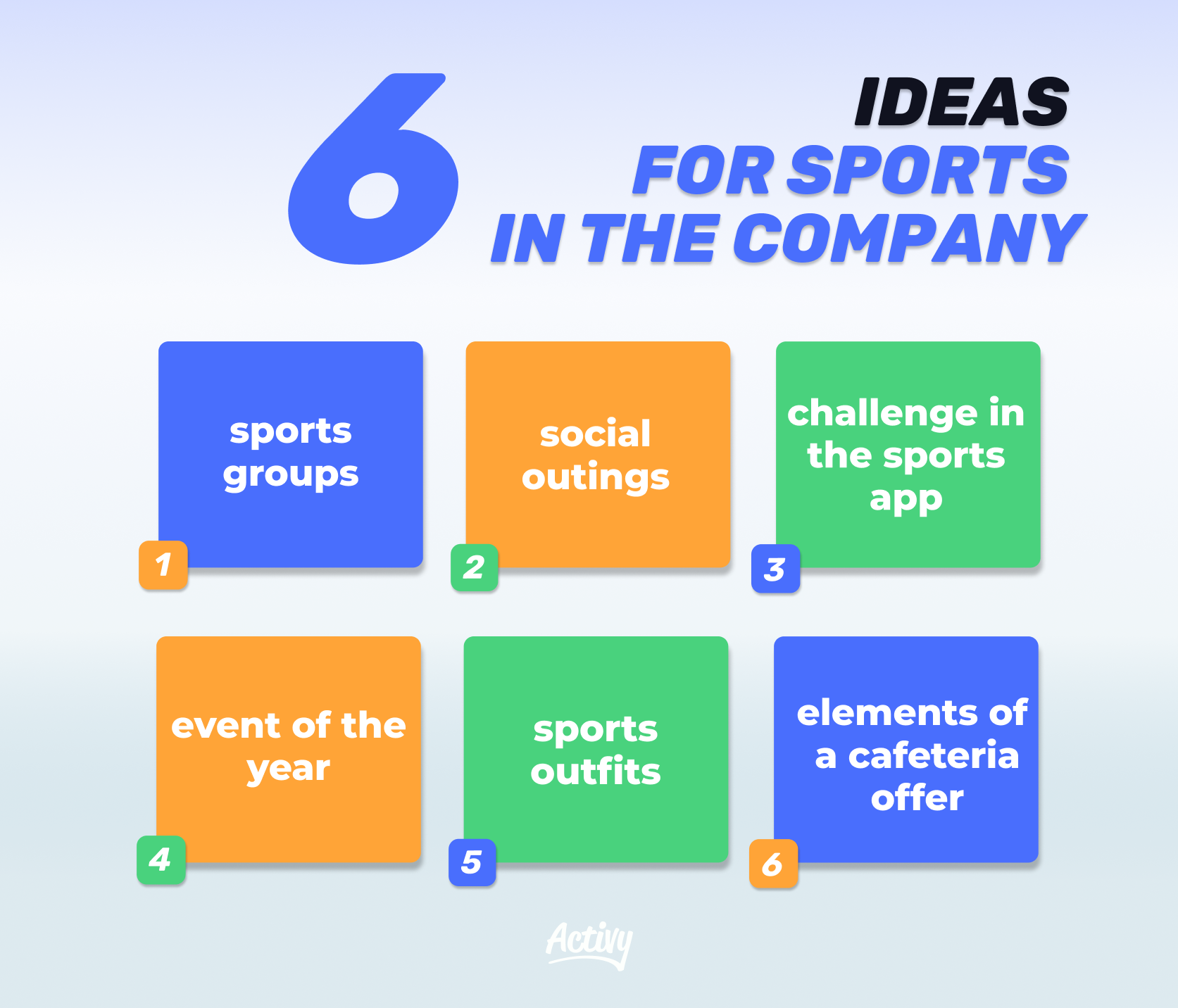 Which concept do you choose?
If these initiatives have inspired you to get sporty in your company, then as they say in the OLX Sport group: stop scrolling, start doing! :)
Start an active challenge in the company with the Activy app! Write to basia@activy.pl for more details. We will take care of everything from A to Z!
---
Do you want to make your employees healthy and happy?
Or contact us via email contact@activy.app