Well-being
Active employees, healthy companies - summary 2021, preview 2022
2/28/2022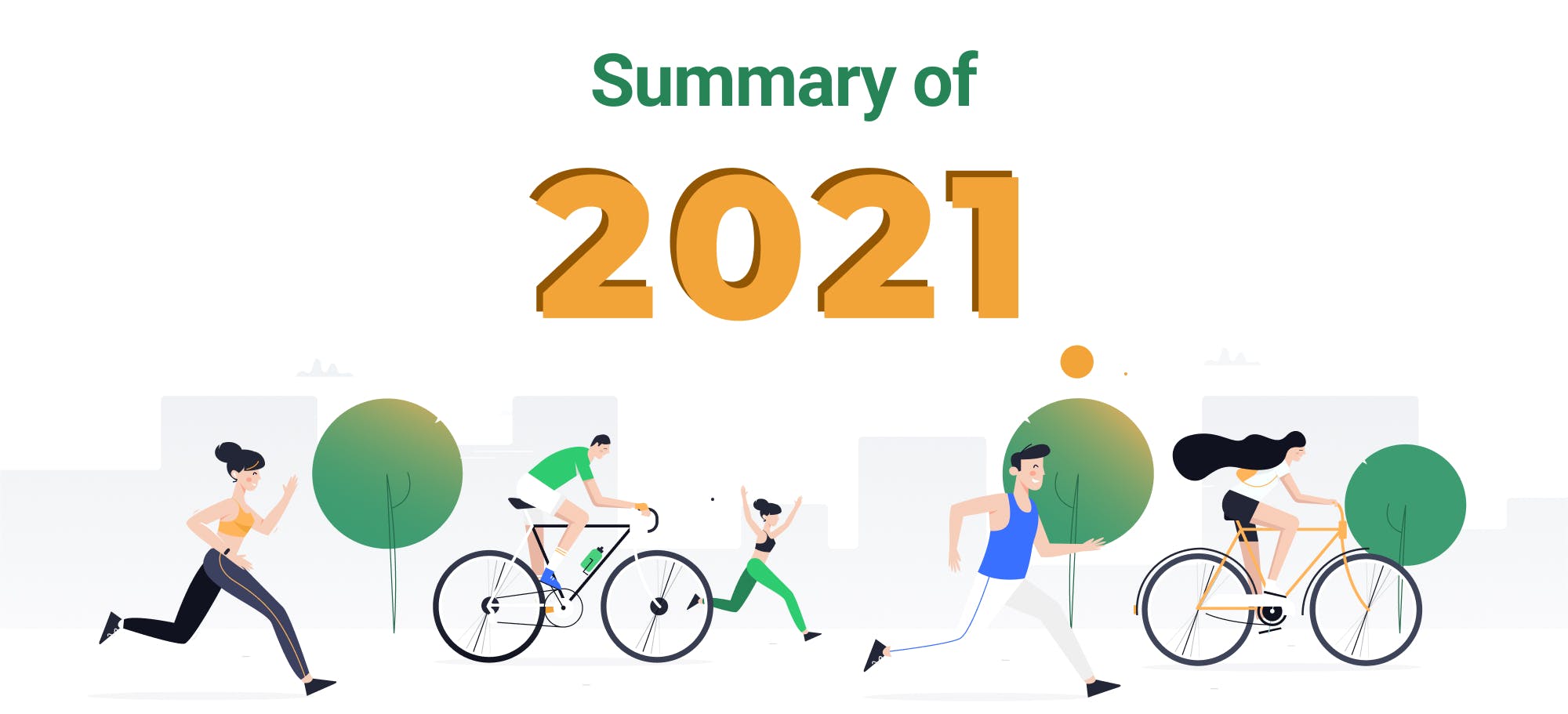 Integration of employees in hybrid, stationary and remote work, team building, CSR activities, employee wellbeing - these are one of the many goals that the Activy app has been implementing in several hundred companies for several years. Sports challenges in walking, running, cycling and many more are an engaging way to build healthy habits. As the participants of this year's challenges write: "This is my first app for activity registration and the first such challenge. I am infatuated :-) I did not think that I would enjoy using the app so much", "I look at my colleagues from a different perspective. I admired their commitment, which also gave me more motivation".

Frozen budgets for wellbeing - how much did it pay off?
The first version of the Activy application was created in 2017 - it was the time when the trend of spending time actively among employees of companies in Poland began to develop. However, it can be concluded that 2021 was a real boom (unless 2022 plans to take up the gauntlets). 2020 was a very difficult year for most people - not only privately, but also professionally. The communication back then, today seems to be a misunderstanding - no walking, running, staying at home. What about physical activity and our wellbeing?
In response to the needs of the time, Activy application users could use the third category of activity: home exercises. However, there were companies that tried to organize a sports challenge with Activy then, although it was probably not easy. The uncertainty resulted in the freezing of "less important" budgets. But the fact that physical activity is always important and how much it influences the mental condition, and, as a result, the efficiency and absence, many organizations found out in a moment.
Below we present some of ours this year's partners:

Participants recall what participation in the Activy challenge gave them:
Great fun, working on yourself, overcoming your own weaknesses, testing your own physical and mental abilities!
Participation in the challenge awakened my passion for cycling. Previously, my bike was rarely used, and now there is not a day without me getting on the bike, even for a short ride. Thanks to everyday activity, I clearly feel better, I am more relaxed and I have more enthusiasm for work.
More confidence, showing that I can do something myself. The more that I never exercised, I didn't move much. This application showed that I, the fatest in the bank, am in third place in my workplace, that I did it myself, without any scam
Better well-being, the problem of lack of sleep, the problem of joint pain, personal satisfaction with the results achieved has disappeared.

Employees' engagement and integration - the thaw in 2021
There are many sayings that could perfectly represent what happened this year, but above all that "every cloud has a silver lining"!  Numbers are the best evidence.
Increase of Activy users by 107%
the application was used by users in 79 countries
Activy can be used in 5 language versions: Polish, English, German, French and Czech
as much as 69% of this year's challenges were implemented by new partners
Activy's wellbeing program reached nearly 300,000 employees this year!
4 nationwide open challenges took place:
"Radio ZET's bicycle challenge", "Continental - Help us along the way!", "Let's go to the table" (Enea) and "OdLOTTOwa Riding" (Halina Konopacka LOTTO Foundation)
participants of active challenges this year covered 25 million km "on wheels" and 8.3 million km "on feet" and burned over 1.6 billion kcal (that's 3.7 million donuts 🍩🍩🍩!)
thanks to the challenge, daily activity became part of the routine in nearly 40% of participants, and as many as 86% performed activity several times a week or every day
as many as 70% of participants notice that thanks to Activy they move more often!
and we're so happy that 95% of participants would like to take part in the Activy challenge next year!
The talks with companies and our observations show that the closing of the Endomondo application contributed to this year's success. It is also important to note the positive aspect of the pandemic - we have all noticed how important physical condition is, how much it affects our health and general well-being. Teams also began to look for solutions to integrate employees regardless of the working mode. Active challenges with the possibility of creating teams, supporting a charity goal, promoting return to offices are the answer to all these needs.

4,75/5 - this is how the employees assessed the idea of ​​organizing a challenge with Activy
95% declare that they will take part in the game in the next year
4,4/5 is a rating for the clarity and easiness of use of the Activy app
Above all, having the challenge at Activy includes greater motivation to move, improving physical condition, strengthening the feeling of having a good impact on the environment, reducing stress and feeling better. It is also a reason for talks in the company - this is indicated by 87.5% of coordinators in companies.
Employers above all appreciate the support of an Activy supervisor, quick access to results and statistics, and an easy activation of the program in the company.
Train your mind like you train your muscles
Noticing the negative effect of isolation - the deterioration of mental health - in April, the Mindy application (and its first users) appeared in the offer, which supports building mental resilience, coping with stress and mindfulness every day. It is a prevention for the mind's health that you can take care of every day just like you do for your muscles. Companies that have been offering access to the Mindy application as a benefit for employees for months are aware of this.
The development of the Activy application
Many changes and conveniences are created thanks to the Activy community - application users submit ideas for development and useful functions. This year people took advantage of the "mission" which you carried out as a kilometer goal in stages, and at the checkpoints you discovered surprises and interesting facts. This is a great way to present the history of the company, tell about the branches in Poland, or even educate the participants of the challenge in any area. We are happy that almost every fifth partner decided to use this new feature in a company program or an open challenge.
Plans for the coming year - what will your employees benefit from?

Counting steps - yearly challenges for everyone!
From February 2022, you will organize challenges based on the number of taken steps. You will be able to have fun all year round, regardless of the season and weather, also when moving your body at work or at home. It was the greatest need reported by the users of the application recently.
Having not enough physical activity of any kind is responsible for 1 in 10 deaths in Europe. Therefore, the World Health Organization recommends that you take an average of at least 10,000 steps a day.

Saving all types of activities - the promotion of physical activity!
Running, walking and cycling are still the basics - that's the best way to build a truly engaging game. This is evidenced by 5 years of experience in working with over 400 companies.
However, it is worth promoting every activity taken for health. Therefore, in Activy from 2022 it will be easier to record all possible sports.

Sharing photos and activities - more integration and engagement!
In the middle of our users will receive access to the newsfeed with activities in the application. You can share your activities and photos from cycling or hiking trips in beautiful natural surroundings.
This will allow you to get to know other employees better, share positive emotions and motivate each other. You can already plan a photo contest as a variation of the challenge! It has worked out well for many companies.
Of course, you can still maintain complete privacy and keep your activities to yourself. Then in the future, you will be able to like and comment on entries.

Additional & improvements - an even more addictive app!
You gave us a lot of great tips this year. Thanks to them, in the new season you will see several improvements to the operation of the application, the game system and protection against violations.
You will get involved in thematic missions, set your own sports goals or reward your efforts in the Active Coin store. The possibility of synchronization with external devices will also be expanded.
Opinions of the participants of the Activy challenges:
Everything was great for me. I visited places that I have not seen for a long time
For me, the application and the competition were a great idea and motivation, I am 100% satisfied
This is my first activity recording app and the first such challenge. I am enchanted :-) I did not think that it would be a such fun to use the app (e.g. insight into the route traveled or the rankings :-) And also a charity goal <3 It's great that you can add your photos on the routes from a particular place.

The Activy app develops thanks to its community - it is you who submit ideas and needs. We are here for you and we are glad that we already know that we will see you "on the road" in 2022!
---
Do you want to make your employees happy?